In a few days, a global celebratory evening will take place, one of the few days on the calendar where we will get to wear and impersonalize characters from our favorite movies or human history. Parties and events will take place suitable for every age group, and in the modern world, we managed to bring our imagination to creation by facilitating these events to a safe level for everybody to enjoy. But we seem to have skipped our attention to the ones we inherited for children, as they disguise themselves in costumes and spend the evening munching on sweet treats.
On Monday, October 31
The tradition originated with the ancient Celtic festival of Samhain when people would light bonfires and wear costumes to ward off ghosts. In the eighth century, Pope Gregory III designated November 1 as a time to honor all saints. Soon, All Saints Day incorporated some of the traditions of Samhain. The evening before was known as All Hallows Eve, and later Halloween. Over time, Halloween evolved into a day of activities like trick-or-treating, carving jack-o-lanterns, festive gatherings, donning costumes, and eating treats.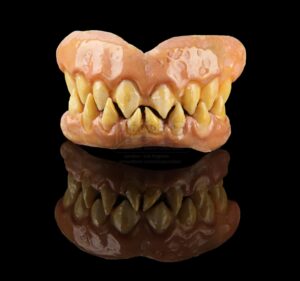 Halloween spirits
These treats contain real Halloween spirits.! Most chocolate bars will contain 5.5 g of sugar, basically, each bar is a military-grade enforcement package received by the bacteria living in the gum and on teeth surfaces, enchanting them from slow progressive Smeagols into packs of demolishing Werewolves feasting on the oral cells like an army of vampires, resulting cavities and a view of HollowTeeth.
Luckily
we mentioned it is the modern world, and just as we managed to engineer safe environments for everybody, the creation of a safer Halloween experience for our children is possible, by taking the 1st step into the castle of dental awareness. Precautionary medicine and dentistry have been the pillars of our modern healthy societies, through the spread of awareness, routine dental check-up visits, and educating and training our kids on oral hygiene, then no more teeth will be left hollow. Beauty begins the moment you decide to be yourself.
Contact us now to schedule an appointment!
General Dentist